Click on images for larger view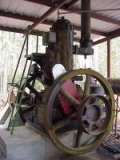 Over the years, our family has been involved in many adventures while recovering old machinery, tractors, engines, or anything else that we knew we needed. The story behind our latest JEWEL, from my first seeing the engine to where it now sits, is a story that several people have encouraged me to share.
I first spotted the engine several years ago when, as I was driving down highway 46 toward Denmark, I looked to the right and saw a machine that stood tall above the other "stuff" that surrounded it. Not knowing what it was, Tim and I made inquires into what it was and found that it was some kind of big engine. We then dismissed it as something that we did not need to pursue. The engine was owned by Mr. Obern Creasey. Tim had known Mr. Creasey for a while, but I did not know him until several years later when I began to visit with Mr. Creasey and bought a tractor and lawn mower from him. During my negotiations with Mr. Creasey about the tractors, I was able to take a distant look at the engine. I (and any one else) was prevented from taking a close look at the engine due to a very active honey bee nest that held all at bay. Once again, we were just not interested in that hulk of steel and passed it up for other "jewels".
Three years past and this spring (2000) Tim and I bought some grits and flour milling machinery from an old mill in Washington, Ga. A semi-diesel engine originally powered the mill. A couple months later we went to a show in Washington and meet Norman Durham; Norman and his brother Ernest collect Cotton Gin engines (diesel and semi-diesel) and during our conversation Mr. Creasey's engine came up. The "bug" had bitten Tim and I and we were destined to pursue the engine.
Soon after our trip to the show in Washington, I talked to Mr. Creasey and let him know that we were interested in the engine. We discovered that it was a Continental Cotton Gin Engine (built by the Continental Gin Company) and that it was a 60 H.P. model that weighed between 16-20,000 lbs. We were interested, but we quickly realized that if we were going to seriously consider the engine, we had to get more people than just us involved. The very first person to know that we were thinking about the engine was Wayne Olliff. Wayne had been interested in the engine for several years, but like us knew that he could not pursue the engine without help. Tim & Joshua, Wayne & Harrison, Daddy, and I made a trip over to look at the engine, and we all thought that it looked mighty good, but we needed a better look and those bees were in our way of taking a good look. I called Bobby Colson and over a couple weeks, he transferred the bees from the engine to a new hive so they could be moved.
As soon as the bees were out, Mark Davis, Wayne, Tim, Josh, Daddy, and I went over and went through the engine checking it out. We were all very excited to find that there was very little water damage to the engine. That in effect was a miracle considering that the engine had set out since the 1950's. We then decided that we needed the engine and the next step had to be planned: The Move.
We had found out that about 8 years ago (more or less) Eudene Nesmith had moved the engine to where it was: we all felt that if Eudene had moved it where it was, surely Eudene could move it from where it was! We talked to Eudene and he was ready to go. The only thing that Eudene did say was that he thought that when he unloaded it where he did, that he would not ever have to mess with it again.
Eudene and I decided that the move would take place on Saturday, July 22 after Eudene finished cutting hair that morning. Eudene is truly a master of many trades! The event was to start at approximately noon. Tim, Josh, Wayne, Daddy, Dan Griffin, Tim Gast, James & Foss Williams, John Cannady, George Green (Wayne's cousin George), Mr. Rowe with water, and myself were all in attendance and ready to help. Tim (Freeman) first leveled out the road so that Eudene could get the lowboy next to the engine and the engine would be higher than the lowboy floor. The engine sat on an I-beam frame that the engine could be slid on. Next Eudene took a crawler and simply pushed and then pulled the engine onto the trailer. It all took maybe ten minutes.
After fixing a flat tire, we were able to all end up at our place for the "Unloading Ceremony". Waiting for us was Mark with camera in hand, Lehman Brannen, and the rest of our family, plus others that I am sure I have missed. The first step was for Eudene to turn around the tractor-trailer which sounds simple, but was probably one of the most difficult aspects of the move in that Eudene had a very close space to turn around in. Eudene here again is a master with a truck. Once the truck was in place, we proceeded to use railroad ties to build up a platform for an I-beam to sit on that would be slightly lower than the lowboy. We then chained the I-beam to the trailer and Tim took his excavator and tried to pull the engine off of the trailer: she would not move. We then took my loader on the other side of the trailer and as Tim pulled I pushed, and the engine moved. Tim and my "traffic controllers" were Eudene, James, and Lehman. We pushed and pulled and moved and pushed more and finally got to the point where I looked for my "controllers" and they were all gone. The engine was about to set on the frame and was leaning and everyone but Tim and I thought the engine was about to turn over. To get the full picture, you need to understand that the engine stands approximately 14' tall. Tim and I made one final push and pull and the engine came off the trailer, sat on the temporary platform, and DID NOT FALL OVER! RELIEF … THE PRESSURE WAS OFF.
During the next couple weeks, we did a lot of work in order to prepare the engine to be placed on a new foundation. Tim spent a lot of time cleaning out the now maggot filled bee's nest and cleaning the connected lines. Wayne spent a lot of time planning our next moves, studying the manual on the engine, and working on all parts of the engine, and James Williams who, because of his persistence, strength, and Come-along unstuck the engine. Many people during those two weeks did work on the engine preparing for the next move.
The final move took place on August 2. The foundation for the engine was required to be massive enough to hold this hulk of an engine. We finally decided on a concrete pour that required 17 ½ yards of concrete and a lot of rebar, threaded rod, plywood, and work. By the 2nd we were ready for the crane to pick up the 20,000-lb engine and set it where it now sits. The engine was purchased new by the Kate Newton Gin in Jenkins County in 1938 and faithfully powered the gin from 1938-1945. Very soon we look forward to hearing this old engine once again pound out a tune with a voice that should be heard for miles around.
I am certain that I speak for Tim in saying that we are extremely proud to be the caretakers of the Continental for hopefully many years. This has been a team event with the leader being Wayne Olliff. We are excited about the interest that has been shown in the engine and appreciate all the help that has come the engine's way. I am certain that we are all working on this project in order to save it for the generations to come and providing for it a good, New Home!


P.S.
On 8/25/2000 I wrote this article. By this time we had the engine up and running.
When all was said and done we ended up with 25 yards of concrete under the engine. We purchased a septic tank and use it as our water tower.

Without fail, at any time, without concern for temperature, we can go out, build up 250lbs of air and crank the engine with no problem. She also handles the mill well; her 60 hp output doesn't know anything is hooked to her. It truly is a joy running an engine like this!

Stacey Freeman & The Freeman Family